Debit Cards
Debit/ATM Cards allow you to draw funds from your checking account without having to write out a check. You will receive a card, that looks like a credit card, that will allow you to scan the card at most retail establishments or receive cash at most ATM machines. You are never charged if you use a Black River Country Bank ATM, but you may be charged at other ATM's.
Contact us to sign up for your debit card or more information with Karolyn Gjerseth @ kgjerseth@brcbank.com or Cindy Adams @ cashier@brcbank.com.
Shazam Debit Card Network

Black River Country Bank utilizes the SHAZAM Network for our debit card program. This program offers some great benefits, including the new SHAZAM BRELLA app (formerly BOLT$, effective 5-6-20) which allows you to access your debit account information anytime, anywhere via your smart phone or the Internet. There's also a feature to set up alerts regarding transactions or suspicious activity. See details below regarding SHAZAM BRELLA below.



Access account information anywhere, anytime with SHAZAM BRELLA!
Shazam BRELLA is a free mobile app for your DEBIT CARD where you can access balance information anytime, anywhere via your smartphone or the Internet. It also adds another layer of protection to your debit card. Shazam BRELLA can immediately alert you to potentially fraudulent activity. BRELLA helps protect you from fraud by sending alerts when your card is used so you can quickly detect unauthorized activity. 
Click HERE for Complete Brella USER GUIDE (Reference Chart)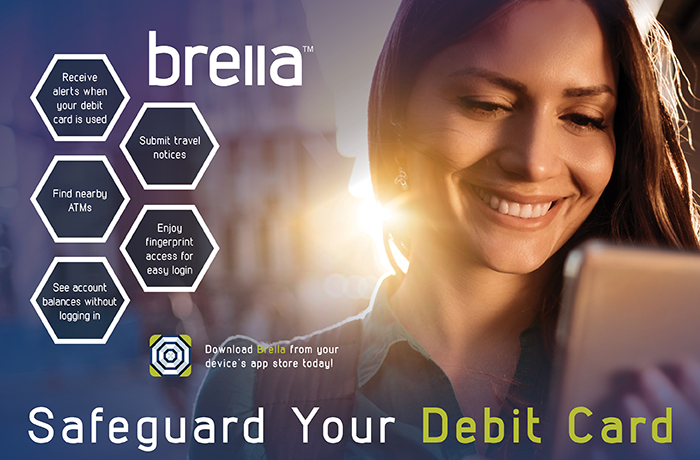 SHAZAM BRELLA is available for smartphones and tablets, as well as any home computer with a web connection.
BRELLA has All the great features (of the former app, BOLT$), you choose which alerts to receive and when. Alerts include:
Purchases exceeding thresholds you set.
Purchases made via the internet or over the phone.
Suspicious or high-risk purchases.

If you receive an alert, you can quickly take action to prevent fraud.
Download BRELLA today so you can:
Check your account balance without logging in with the Quick Balance feature.
Have Transaction Control at your fingertips. Lose your debit card? Turn it off. Find it in the couch cushions? Turn it back on. It's that simple
Find nearby ATMs.
Submit travel notices.
Log in with just your fingerprint.
Download from the Apple App Store or Google Play.



Safely shop from the comfort of your own home with these tips...
Use a reputable website while purchasing your items

A secure website begins with https and will have a lock symbol

Create secure passwords that include symbols and capital letters

Avoid using free, non-secure WiFi hotspots in public locations

Link your debit card directly to your checking or savings account

Stay within budget; money is withdrawn directly from your account
*******************************************
**ARCHIVAL NOTICE: July 1, 2020**
Same app. New name.
SHAZAM BOLT$ is now Brella™.
As a reminder ...

Was Effective May 6th, 2020
 EXISTING BOLT$ USER IMPACTS TO NOTE ...



iOS® — Brella was released as an automatic update to all BOLT$ users. You'll just need to review and accept an updated Terms of Use Agreement as part of the update.

AndroidTM — You will need to download Brella as a new app. You will need to visit the Google Play Store, search "Brella Card Manager" and download the new Brella app to your device. 

Once you have Brella, the transition should be seamless meaning all BOLT$ usernames, passwords, registered cards and app functions will continue to work in Brella as they do today.



BRCB customers ... Going on VACATION? Set a TRAVEL NOTICE.

Please be sure to call us before you leave and let us know where you'll be traveling, also check with us to be sure your contact information is up-to-date (especially your cell phone#), and remember to take along alternative methods of payment. We'll communicate more soon about submitting travel notices directly through the new brella app for your debit card account as well!
Check out these important Travel Tips below.
Wishing You HAPPY & SAFE Travels ... 
From All of Us at Black River Country Bank!!
We appreciate your business and are sure that you will love your Shazam debit card. If you have any questions, please contact us at 715-284-9448, or email us at computer@brcbank.com