Debit Cards
Debit/ATM Cards allow you to draw funds from your checking account without having to write out a check. You will receive a card, that looks like a credit card, that will allow you to scan the card at most retail establishments or receive cash at most ATM machines. You are never charged if you use a Black River Country Bank ATM, but you may be charged at other ATM's.
Contact us to sign up for your debit card or more information at skutchera@brcbank.com or cashier@brcbank.com.
Shazam

Black River Country Bank utilizes the SHAZAM Network for our debit card program. This program offers some great benefits, including the SHAZAM BOLT$ app which allows you to access your account information anytime, anywhere via your smart phone or the Internet. There's also a feature to set up alerts regarding transactions or suspicious activity. See details below regarding SHAZAM BOLT$.

Access account information anywhere, anytime with SHAZAM BOLT$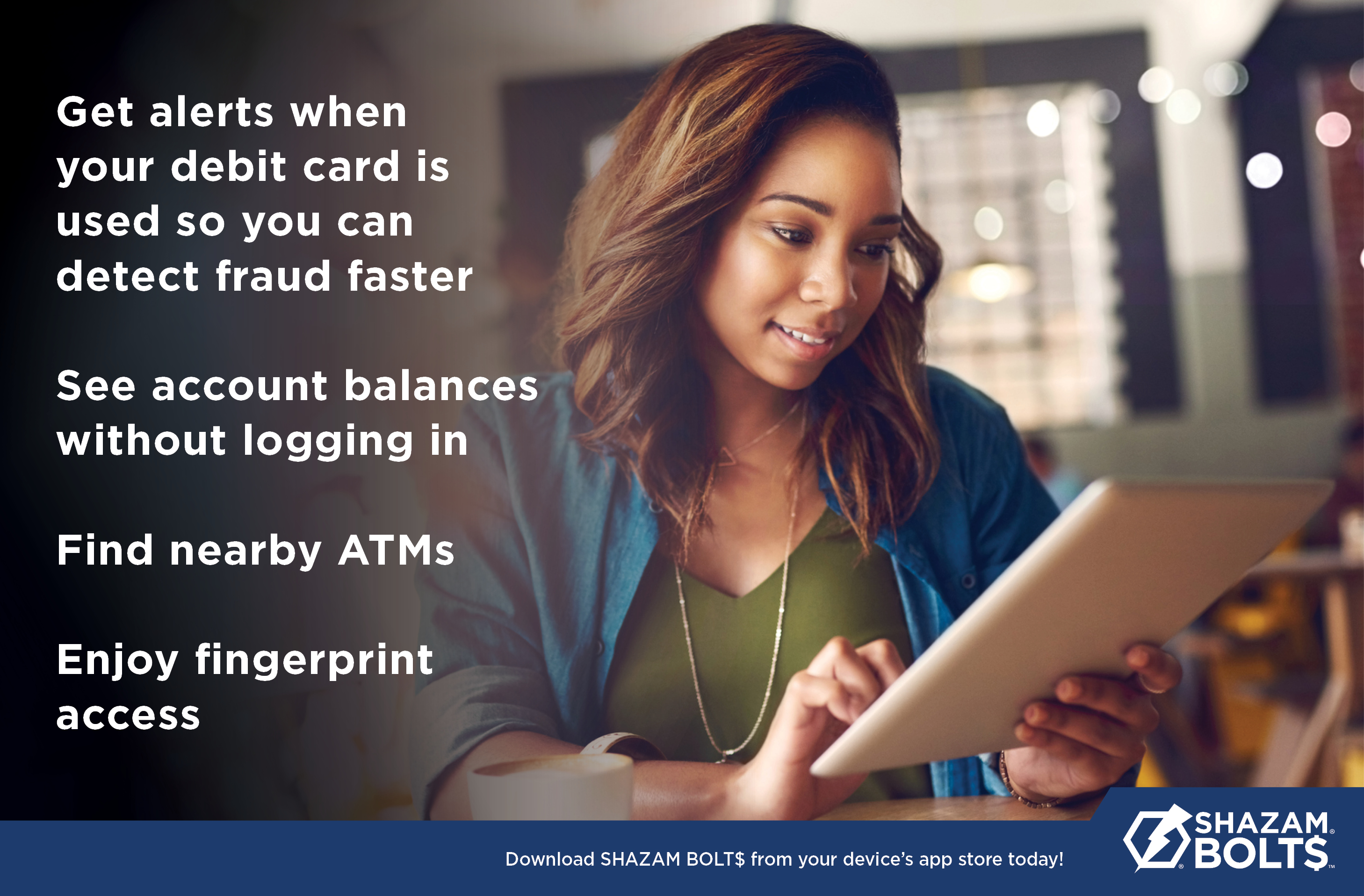 With the SHAZAM BOLT$ app, you can access balance information anytime, anywhere via your smartphone or the Internet. It also adds another layer of protection to your debit card. SHAZAM BOLT$ can immediately alert you to potentially fraudulent activity:
A debit purchase for more than an amount you specify.

Any card-not-present debit transaction (i.e., phone, Internet, mail).

Any suspicious or high-risk transaction that occurs on your account.

SHAZAM BOLT$ is available for smartphones and tablets, as well as any home computer with a web connection.
Download the SHAZAM BOLT$ app today so you can:
Quickly detect unauthorized activity on your debit card
See your account balance
Find nearby ATMs
Download from the Apple App Store itunes.apple.com/us/app/shazambolt$/id571486405?mt=8 or Google Play play.google.com/store/apps/details?id=net.shazam.bolt&hl=en
Safely shop from the comfort of your own home with these tips:
Use a reputable website while purchasing your holiday items

A secure website begins with https and will have a lock symbol

Create secure passwords that include symbols and capital letters

Avoid using free, non-secure WiFi hotspots in public locations

Link your debit card directly to your checking or savings account

Stay within budget; money is withdrawn directly from your account
Going on VACATION?

Please be sure to call us before you leave and let us know where you'll be traveling, also check with us to be sure your contact information is up-to-date (especially your cell phone#), and remember to take along alternative methods of payment. Check out these important Travel Tips below.
Wishing You HAPPY & SAFE Travels ... 
From All of Us at Black River Country Bank!!
We appreciate your business and are sure that you will love your Shazam debit card. If you have any questions, please contact us at 715-284-9448, or email us at computer@brcbank.com