Personal Lending

From Residential Mortgages to Consumer Loans ... 
We Can Help Make Your DREAMS a REALITY Today!
Looking for your first home? Building new or remodeling? Maybe you're looking to purchase that new car, a car for your teen, or a camper for the family?! Let us help you discover your borrowing options. We have competitive rates, excellent service, flexible terms, and a variety of credit plans.
We can fit your loan needs. Long or short term, secured or unsecured, are options available to you. 
APPLY NOW or stop in today to meet with one of our experienced Loan Officers!
********************
Lower Your Borrowing Costs
Up to $10,000 available for the purchase of your home
If you want to buy a home and have a steady income and good credit, Black River Country Bank and the Federal Home Loan Bank of Chicago can help. Through the Downpayment Plus® Program*, up to $10,000 may be available to eligible homebuyers to use toward down payment and closing costs. Ask one of our loan officers
today about the Downpayment Plus Program to see if you are eligible. Homebuyers must meet income eligibility
requirements and:
• Contribute at least $1,000 to the purchase of the home
• Complete pre-purchase homebuyer education and counseling

• Live in the home as your primary residence

Black River Country Bank is committed to helping our neighbors. We can help lower your borrowing costs if you qualify for the Downpayment Plus Program.

* Downpayment Plus is a program from the Federal Home Loan Bank of Chicago. Restrictions apply. Please see the Federal Home Loan Bank of Chicago's website at www.fhlbc. com for complete requirements. "Downpayment
Plus" is a registered trademark of the Federal Home Loan Bank of Chicago.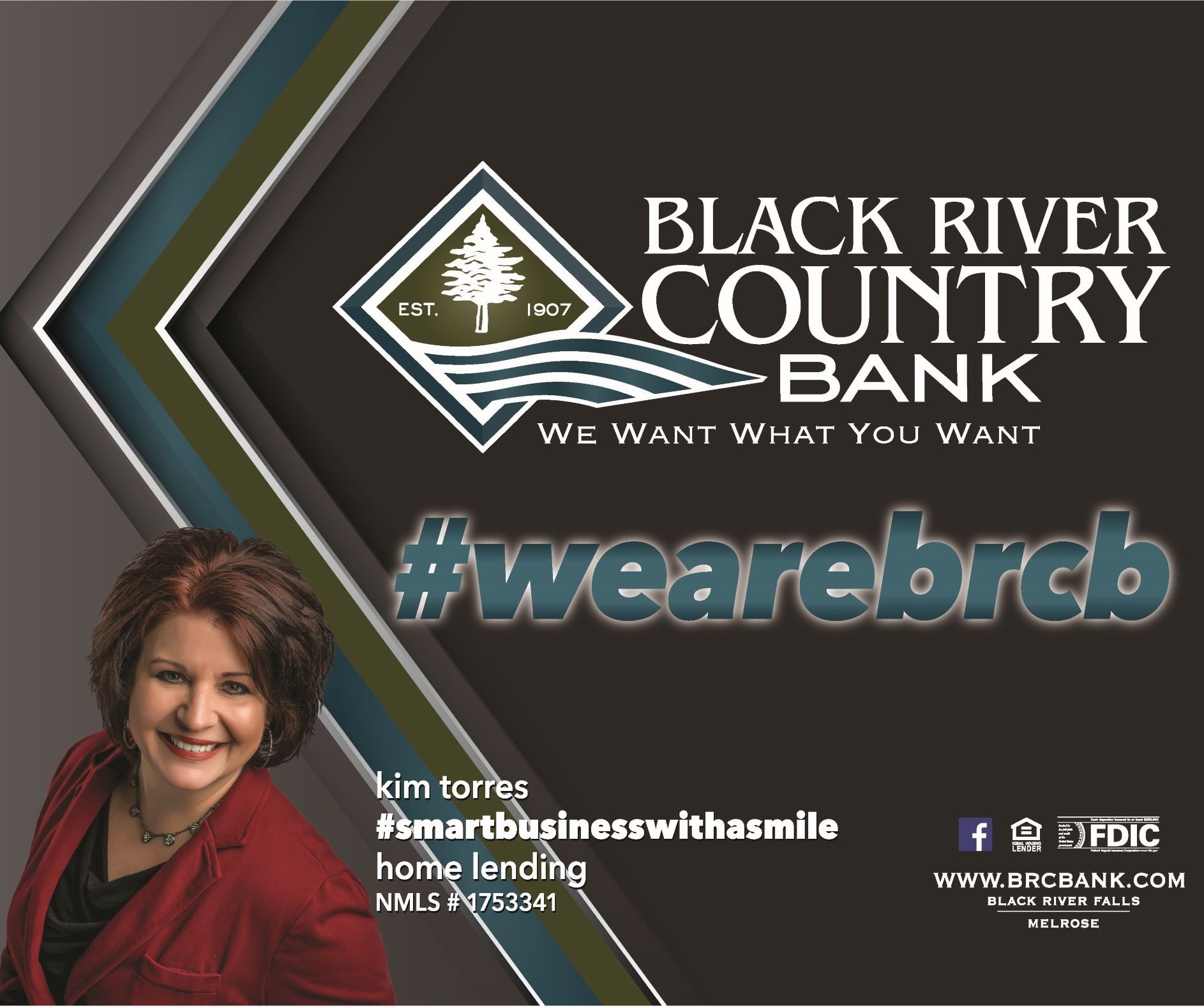 Residential Mortgages
Real Estate Loans
We offer conventional home loans at affordable rates. Payments can be automatically deducted from your checking or savings account monthly or biweekly. We finance new home, construction, recreational property, and lot/land loans.
Fixed Rate Mortgage
A standard fixed-rate loan has a fixed interest rate, a fixed monthly payment, and is fully amortized over a given number of years. A portion of each monthly payment covers the interest due on the loan. The remaining portion is applied toward the reduction of the principal balance. Regular payments systematically reduce the loan balance until the loan is paid in full.
The standard fixed-rate mortgage is still the most popular mortgage loan type. Its popularity is tied to the security that a fixed rate and fixed payment offer to borrowers who are reluctant to assume the risk of fluctuating interest rates. The availability of different loan terms offers borrowers the security of a fixed payment but allows for flexibility in the size of the monthly mortgage payment as well as how quickly the principal balance can be paid down. 
Balloon Mortgages
How it Works: The borrower makes equal monthly payments that are typically based on a specified pay-off schedule.
Payment in full of the outstanding principal balance is due at a specific time prior to the end of the scheduled amortized term. Most borrowers who take advantage of the attractive interest rates offered by balloon mortgages anticipate selling or refinancing the property prior to the end of the balloon period.
New Construction
We can also finance the new construction of your home with a Residential Construction Loan. We make your building process easier by facilitating the draw process.
Home Equity Line of Credit (HELOC)
Home Equity credit lines enable you to advance equity in your residence. You can use the money for home improvements, vacations, weddings, car purchase, holiday buying, landscaping, a second residence and much more. You don't have to use the money just for your home improvement. It is nice to have open and established and ready for use.
We will bill you monthly only on the amount outstanding. During the term of your credit line, funds may be advanced at your convenience, utilizing a checking account. Debit cards are also available on this account. The interest you pay may be tax deductible. Consult with your tax advisor to review your specific situation.
APPLY NOW or Contact one of our knowledgeable Loan Officers today!

Black River Falls Office (715) 284-9448 

Melrose Office (608) 488-2411
Kim Torres torres@brcbank.com NMLS# 1753341 
Justin Blaken blaken@brcbank.com NMLS# 433832
Max Hart hart@brcbank.com NMLS# 1257455

Consumer Loans
Installment Loans
Buying a new or used car, boat, camper/RV, motorcycle, snowmobile, ATV/UTV, or other type of vehicle can be easy. We offer flexible terms and affordable payment options. Credit Life and Disability insurance are also available.
Personal Loans/Lines of Credit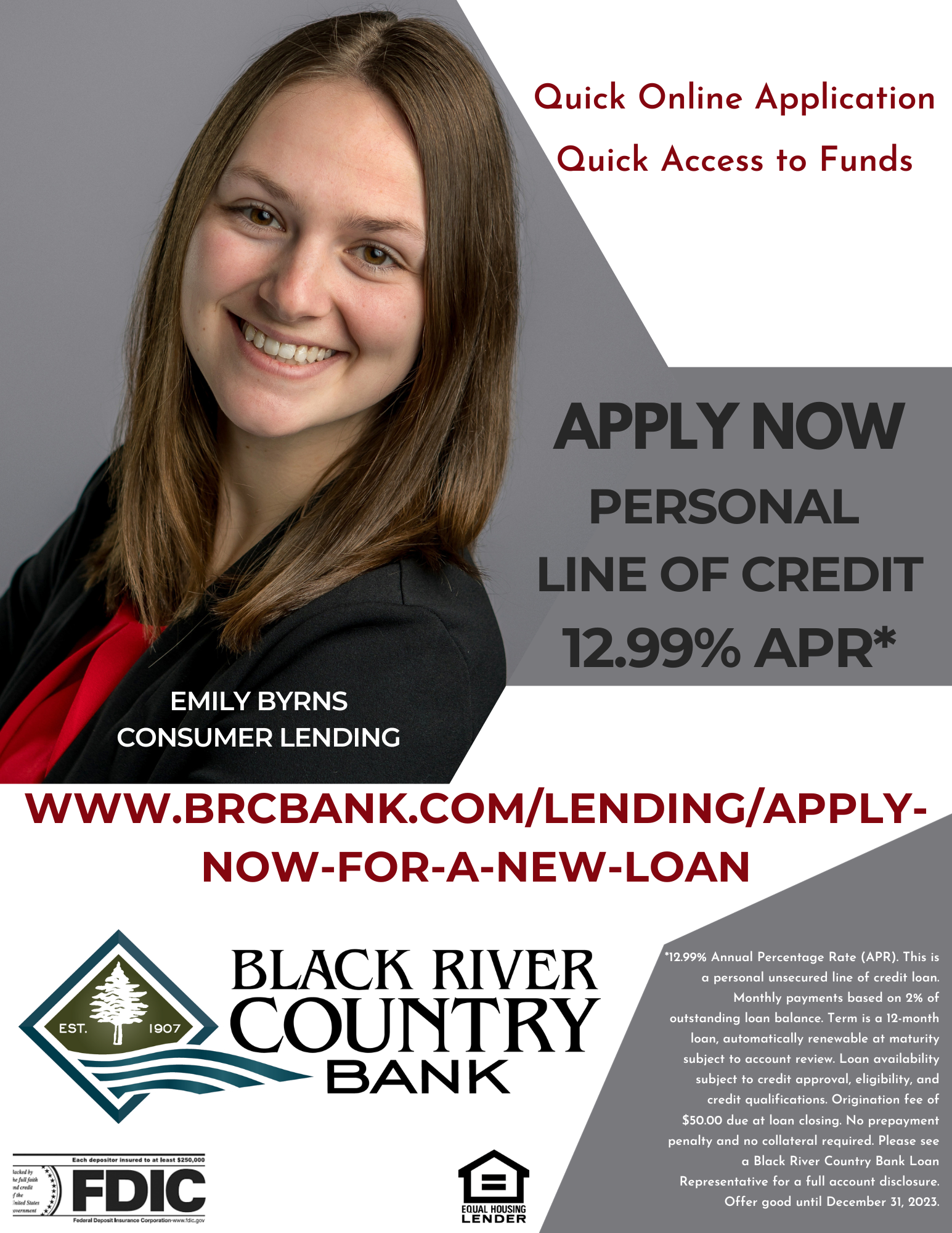 Credit Cards (By Élan)
We offer a variety of Visa cards to suit your individual or business needs. They are accepted worldwide. Click the button below to check out our Personal and Business credit card offerings + details for each and APPLY TODAY!
CLICK FOR CARD DETAILS & APPLY NOW 
 Black River Falls Office (715) 284-9448 

Melrose Office (608) 488-2411
Kim Torres torres@brcbank.com NMLS# 1753341 
Emily Byrns ebyrns@brcbank.com 
Justin Blaken blaken@brcbank.com NMLS# 433832
Max Hart hart@brcbank.com NMLS# 1257455