Community & Events

For Immediate Release: May 18, 2020
Black River Country Bank through Partnership with Federal Home Loan Bank of Chicago Grants $20,000 to Local Organizations
"You're going to make me cry," reacted Lori Chown, Director of Jackson County Interfaith Volunteer Caregivers (JCIVC), upon hearing the news they were going to be receiving a $3,000 grant from Black River Country Bank through a partnership with Federal Home Loan Bank of Chicago (FHLBank Chicago). JCIVC was one of four local organizations (more below) recently awarded the FHLBank Chicago COVID-19 Relief Grant. Jackson County Interfaith Volunteer Caregivers' mission and many outreach programs (such as providing Home-Based visits, Groceries to Go, Time For You, and the Visually Impaired Reading Program) involve trained volunteers of all ages who pool their energies and talents in the preservation of dignity and maintenance of independent living among Jackson County's health-impaired older adults, persons under disability and those having special needs. The COVID-19 crisis, has forced JCIVC to find creative ways to continue to meet the needs of some of our most vulnerable, homebound residents. Chown explained, "Interfaith continues to deliver groceries to health impaired older adults.  Each week we are delivering to 20-30 individuals.  This is a big increase from before COVID-19.  With Hansen's IGA being so busy, Interfaith staff is now calling to get the grocery orders, then emailing them to Hansen's staff.  It's a lot different than what we were doing, but it's the best way to make things work. We are also providing reassurance calls to those who are more isolated and have the help of over 30 volunteers with that!  In the last month over 25 seamstresses have sewn over 1,000 masks that Interfaith helped distribute to businesses, health care agencies and community members.  Every time we would receive a new call for masks these ladies would rise to the occasion and have over 100 masks made in a day or two to meet the need.  These ladies have lovingly been called the "mask angels." Chown reflected.
Federal Home Loan Bank of Chicago approved funding in late April for a COVID-19 Relief Program available via application to all its member institutions in Wisconsin and Illinois. The grants were intended to provide needed support within our communities resulting from the COVID-19 crisis. Specifically, Black River Country Bank (BRCB), with offices in Black River Falls and Melrose, applied for the COVID-19 Relief Grant Program, where FHLBank Chicago allocated enough funds for all member and associate member institutions to receive up to $20,000 in COVID-19 Relief Grant funds. Black River Country Bank was awarded the full $20,000 COVID-19 Relief Grant and local beneficiaries were selected by BRCB for distributions to help the many "boots on the ground" efforts being made by our local organizations helping so many people in need during this crisis. Bob Becker, President Black River Country Bank further explained, "Our partnership with FHLBank Chicago has helped us for many years to fund the needs of local residents in meeting their dreams of home ownership, but to have them step up in this time of crisis and help us make available these desperately needs funds, is truly outstanding.  The grant allowed BRCB to identify the organizations that we felt could put these funds directly to work in our community and in a manner that would reach people that are directly affected by this crisis and could use the helping hand.  I am very proud to partner with the FHLBank Chicago and our employees for the work they put in identifying, participating with, and supporting the organizations that we chose to receive this grant money."
Another $3,000 was awarded to Black River Falls Emergency Medical Services (EMS) Division to be used to help secure necessary equipment and supplies for the division and its area EMS Responders. BRF EMS Divisions and its area EMS Responders cover 1,000 square miles serving over 20,000 residents living in the city of Black River Falls, the villages of Melrose, Taylor, Hixton, Alma Center, Merrillan, as well as 15 townships in Jackson County and two townships in Clark County. "Our thanks goes out to Black River Country Bank for thinking about the EMS Division and all EMS responders in Jackson County with their donation. We are hoping to utilize the money to purchase some additional decontamination equipment to help clean the response apparatus and equipment more efficiently and effectively," said Jody Stoker, EMS Division Chief.
Black River Country Bank selected Friends Sharing Food to receive $7,000, which is helping fund the four local food pantries that the organization sponsors – Friend's Food Shelf, Neighborhood Food Pantry, Jackson County Food Pantry, and Food for Kids.  Jon Warmke, Co-President of Friends Sharing Food, stated that "during this time of need and our inability to receive donated food from community members due to the virus , the additional funds allow our organization to work with our regional partners, Feed My People and The Hunger Task Force of Wisconsin, to insure that a stable and nutritious food source is available to those in Jackson County who feel they have a need." Friends Sharing Food's various pantries serve over 200 Jackson County Families each month.  With the recent economic fallout due to the virus, they have seen an increase in the number of Jackson County families using their service. Friends Sharing Food, Inc. has been serving Jackson County since 2006.  Their mission is to help reduce hunger in Jackson County families through regularly scheduled projects while treating recipients with compassion, dignity and respect.  
Jackson County Dairy Promotion Committee was the fourth grant recipient and was awarded $7,000. The JCDPC is comprised of many local dairy farm owners and agriculture supporters, all volunteers who are passionate about dairy, educating, and promoting dairy products to all community members. The $7,000 will go towards supporting the Curds for Kids and Dairy at Dinnertime programs, recently launched to help serve multiple purposes … helping to meet food and nutritional needs of our county's residents, supporting our local dairy farmers operating with excess milk supply, and purchasing from our local cheese makers and distribution plants. To date 1,530 pounds of Lynn Dairy cheese curds, 1,530 pounds of cheese curds from AMPI in Blair, and 1,530 pounds of Nasonville Dairy cheese curds have been distributed across 3 weeks to students enrolled in the school lunch program in the Black River Falls, Melrose-Mindoro, and Alma Center-Humbird- Merrillan School Districts.  That works out to be about 1 package per family. The Dairy at Dinnertime initiative has JCDPC members giving away free milk, cheese, and butter (plus a BOGO coupon to redeem at local grocery and convenience stores) in the parking lots of local retailers such as Theisen's in Black River Falls and Double T in Merrillan.  So far, they estimate about 600 gallons of milk, 96 pounds of butter, and 120 pounds of cottage cheese have been given out to our local neighbors driving up. "As a committee, we are very grateful to the individuals, organizations, and businesses that have been so very generous and supportive of our efforts. We wouldn't have been able to make the impact we have without them," added Betty Janke, Treasurer JCDPC.
Tracy Madvig, Black River Country Bank's Organizational and Business Development Officer echoed, Becker's sentiments, "As a family-owned community bank, we feel a deep social responsibility to seek out resources, be creative, and do what we can to help our neighbors thrive in good times, as well as uncertain times. We were thrilled to have the opportunity to partner with the generous efforts and resources made available to us through the Federal Home Loan Bank of Chicago. It was very gratifying to receive notice that we received the grant funds and were able to pass those along to some very deserving organizations, who are out there advocating for and assisting so many in need. There's not much better in my job, than being able to tell someone that we (at BRCB) can help play a role in their service to others in our community."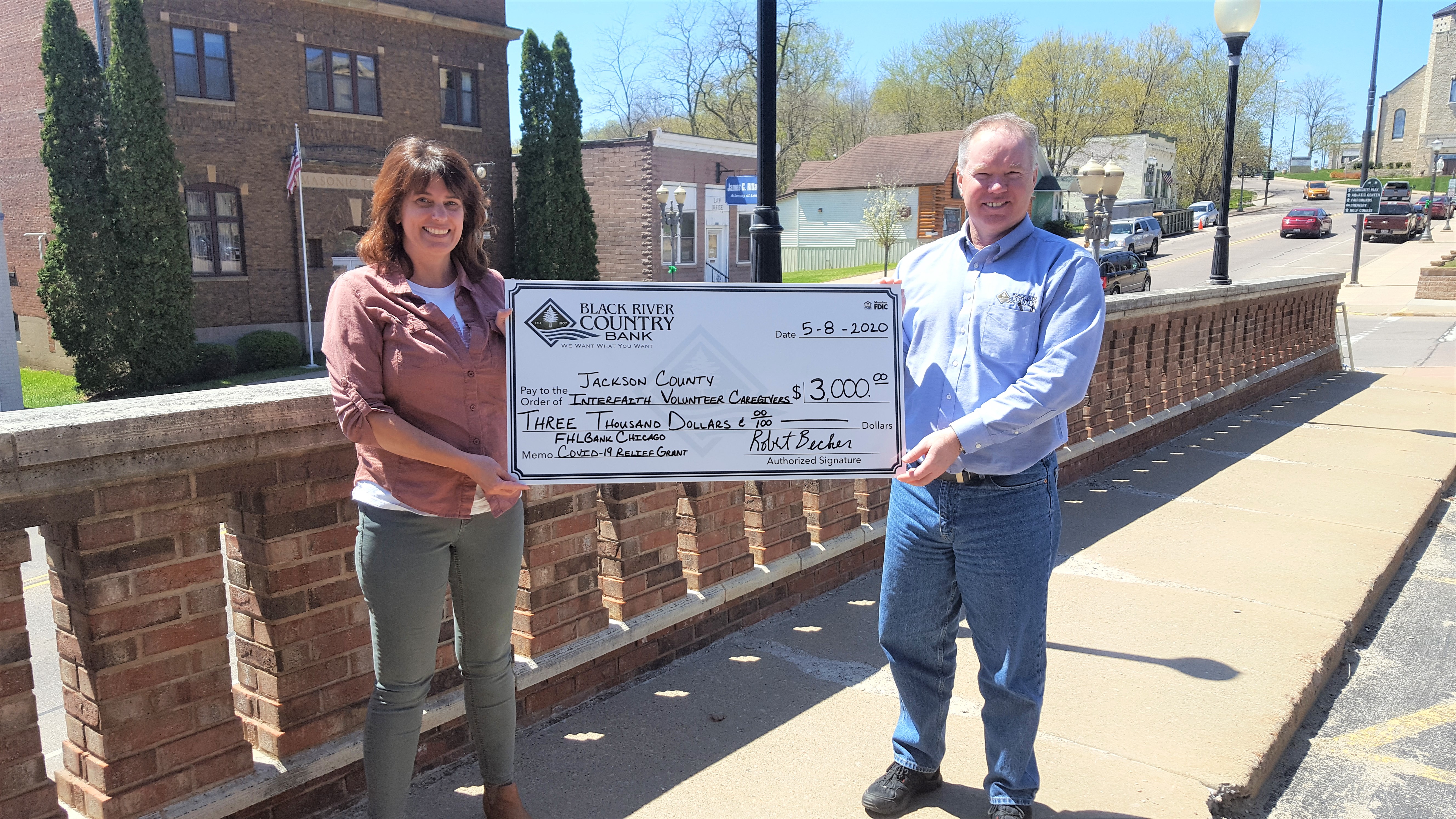 Jackson County Interfaith Volunteer Caregivers
Pictured (l-r) are Lori Chown (Jackson County Interfaith Volunteer Caregivers) and Bob Becker (Black River Country Bank).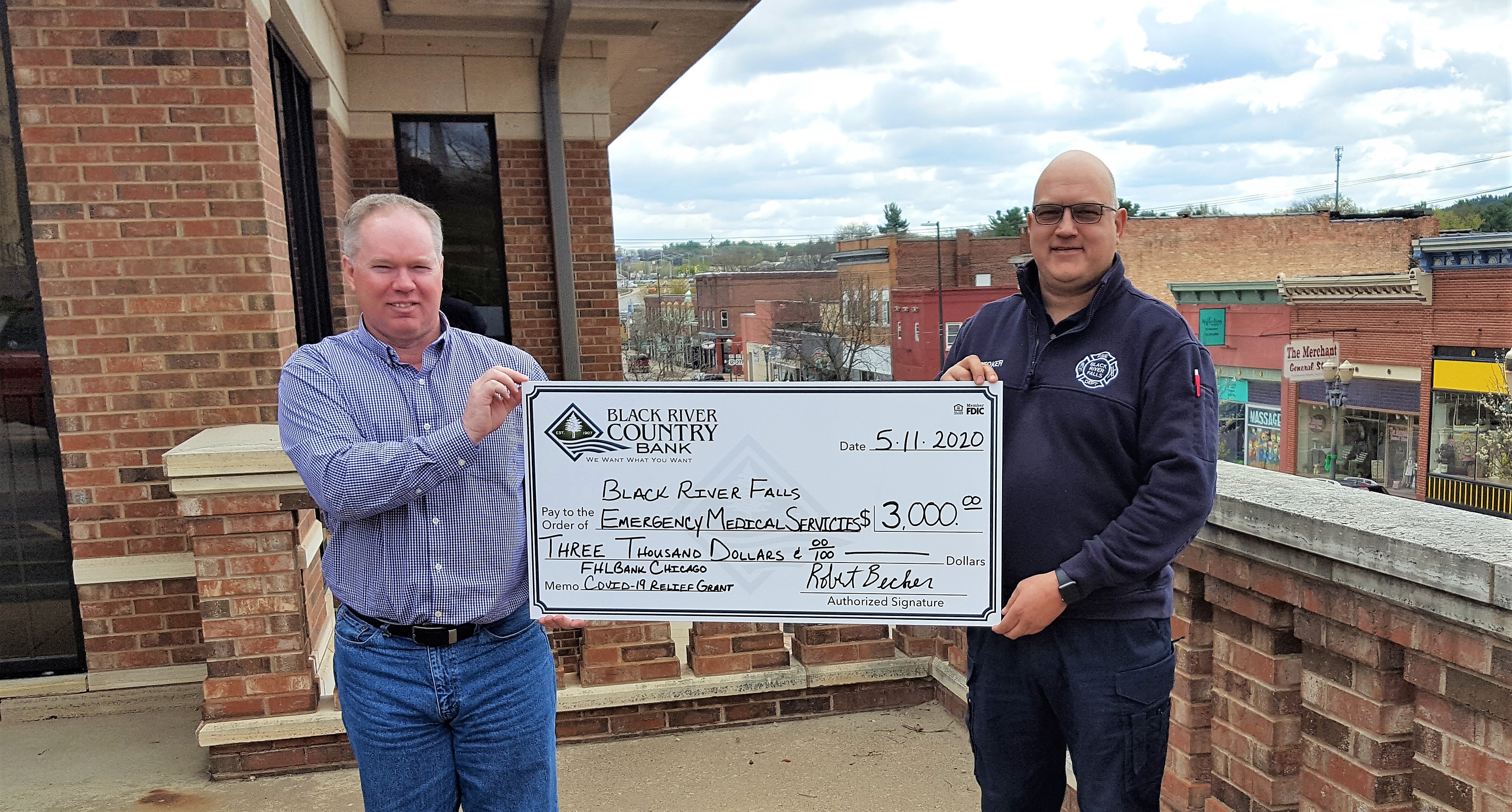 Black River Falls Emergency Medical Services (EMS) Division
Pictured (l-r) are Bob Becker (Black River Country Bank) Jody Stoker (BRF EMS).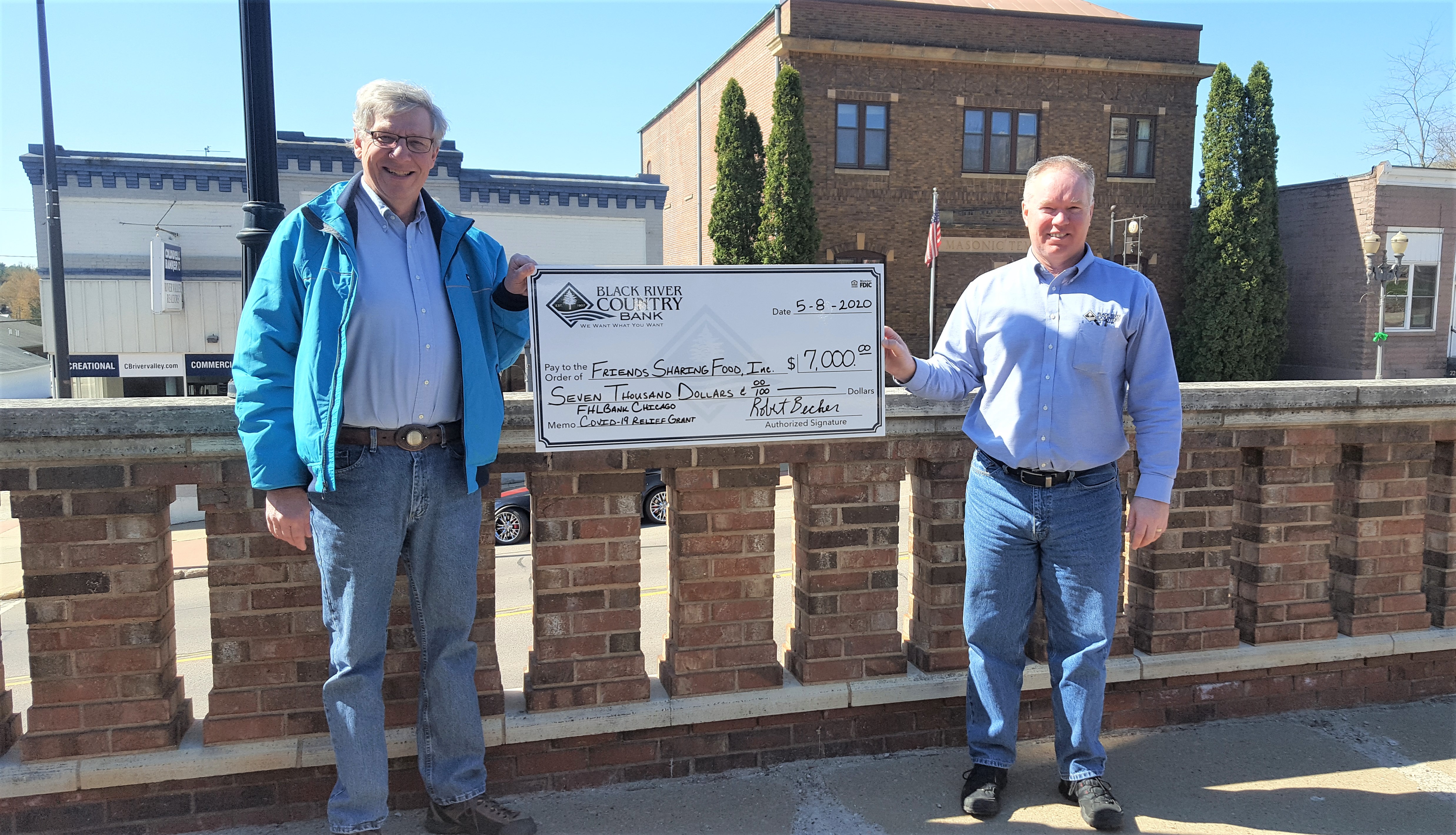 Friends Sharing Food
Pictured (l-r) are Jon Warmke (Friends Sharing Food) and Bob Becker (Black River Country Bank).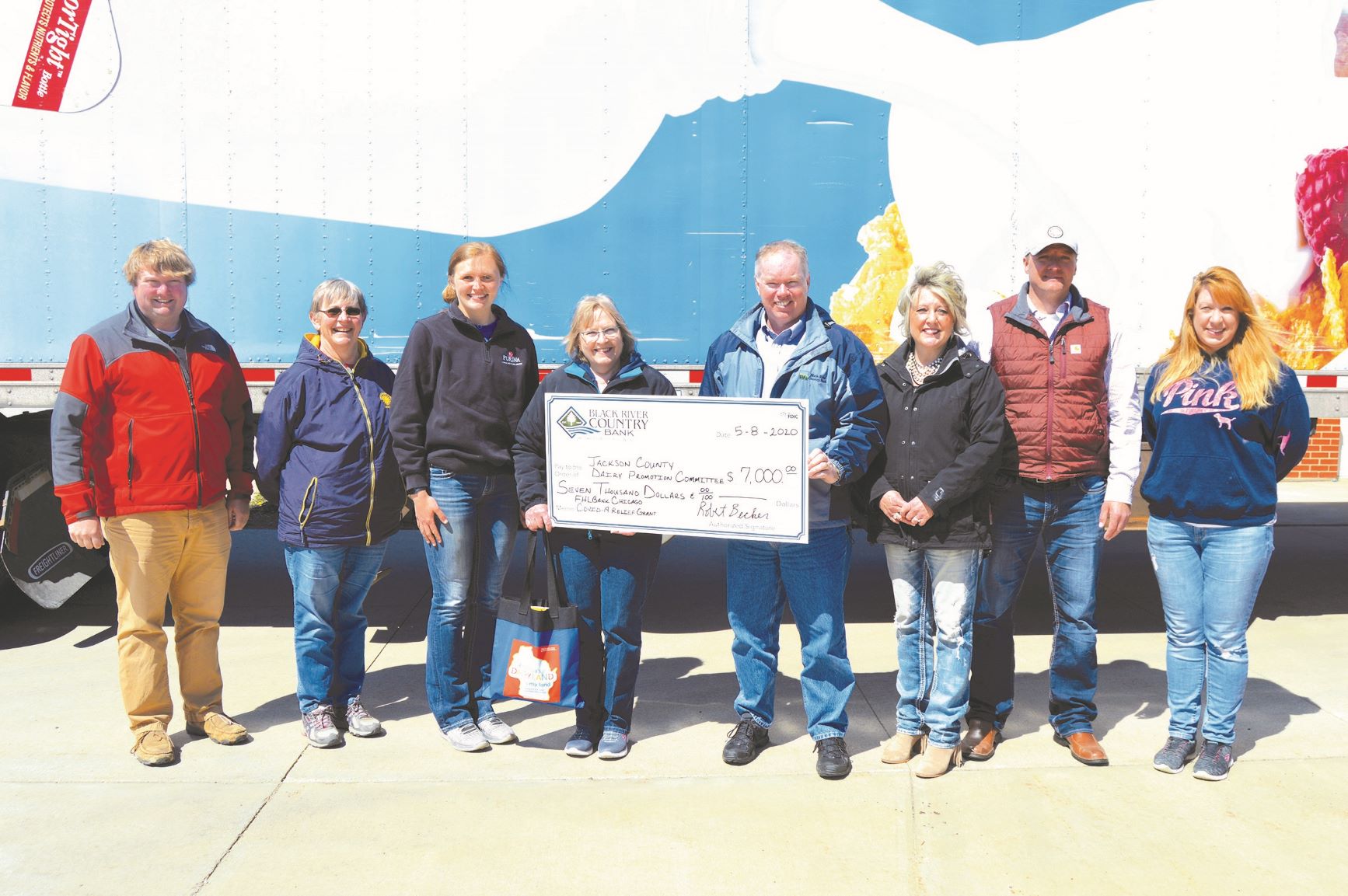 Photo Credit: JoDee Brooke, Banner Journal.
Jackson County Dairy Promotion Committee
Pictured (l-r) are Max Hart, Roxanne Ruzic, Bailey Larson and Betty Janke (Jackson County Dairy Promotion Committee), Bob Becker (Black River Country Bank), Lori Janke and Matt Rhodes (JCDPC Dairy at Dinnertime campaign) and Connie Seiber (BRF School District Nutrition Services Supervisor).
*******************

CONGRATULATIONS TEAM BRCB!!!
Awarded 2019 Black River Area Chamber of Commerce
BUSINESS OF THE YEAR (more than 20 employees)!!!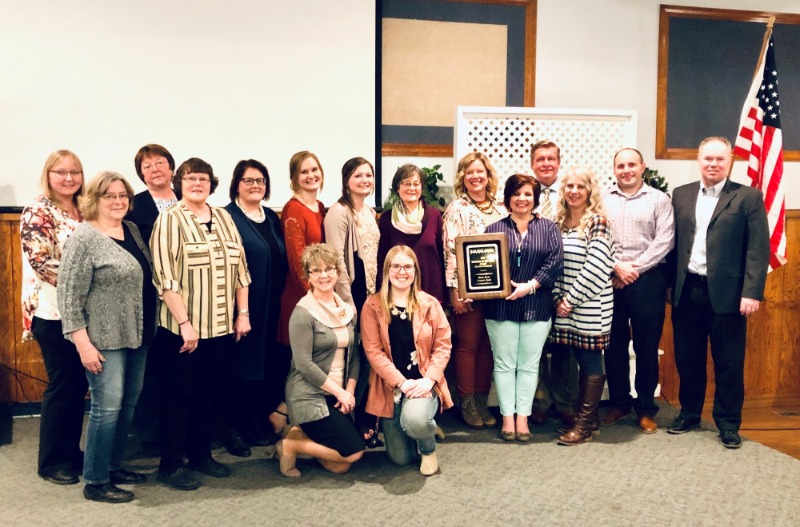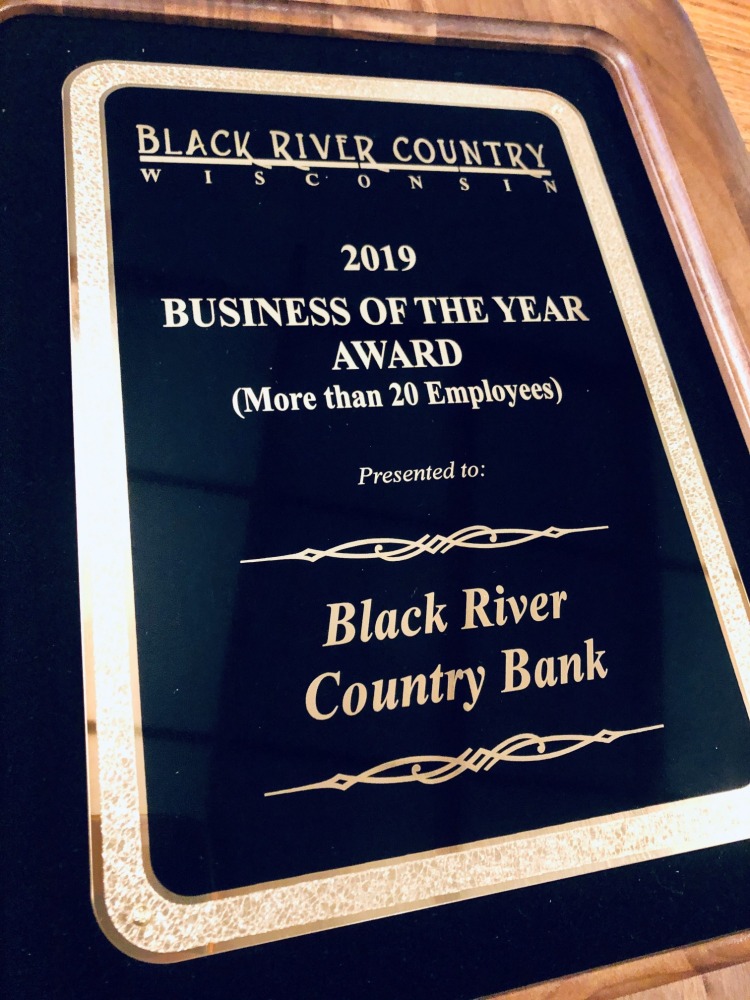 It's with sincere appreciation, humility, and gratitude that we were nominated and received this award from our community!! We strive each day (with all our hearts!) to fulfill our Mission and Vision, are thrilled to be recognized, and will CONTINUE to serve!!


Past Events
Check out our Faceboook page for more!